Extension service process is as follows:
Call or book a consultation online, this is required for all extensions services and comes with a $25.00 fee.
The stylist in your consultation will determine which method of extensions is best for your hair texture, color, and strength. You will purchase the hair at the end of the consultation with the stylist or front desk and this purchase is considered the deposit for your appointment. Your stylist will book your installation appointment for at least one week out, to ensure the hair will arrive in time.
Price of hair ranges from $300-$500 while installation rates start at $100.00 an hour. The average extension service can be about $1,000 give or take, while exact prices are given at time of consultation. We offer Bellami, Babe and Glam Seamless extensions.
Tape In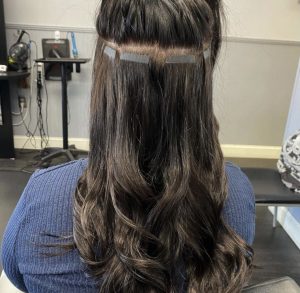 Tape in extensions use a medical grade adhesive to bond the extension to your real hair. A tape in bond remover is used to remove these extensions with no damage to your real hair.
  Application time: 30 minutes to 1 hour
  May be reused up to 3 times
  Lasts 3 to 6 months with proper care
  Available in 14″ straight, 18″ straight, and 22″ straight
Beaded (itip) Method
Microbeads are clamped to securely hold each hair extension strand in place. That means your hair can be long and full without the worry of slippage. This amazing method has absolutely no chemicals, no glue, and no heat.
  May be reused up to 3 times
  Application time: 1 to 2 hours
  Lasts 3 to 6 months with proper care
  Available in 18″ straight, 22″ straight, and 22″ wavy
Volume Weft Extensions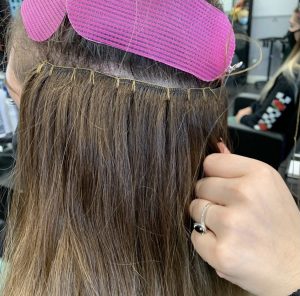 No tape, glue or heat is needed for weft extensions making them a safe and comfortable option as they are sewn into secure beads carefully placed in your hair. These extensions are very versatile too! One row can be installed to add a bit of volume or more rows can be installed to add volume/length or dimensional color. Its up to you!
Application time: 1.5 – 3 hours
Reapplication: 6-9 weeks and the hair itself can last up to 6-12 months with proper care
Available in: Straight or body wave 16" 20" 22" 24"
SALON HOURS
| | |
| --- | --- |
| Monday | by Appointment |
| Tuesday | 10am-8pm |
| Wednesday | 10am-8pm |
| Thursday | 10am-8pm |
| Friday | 10am-6pm |
| Saturday | 9am-5pm |
| Sunday | by Appointment |